20 Latest and Trending Eco-Friendly Wedding invitations ideas
May 29, 2021
This blog post is written by our guest contributor Surbhi.
Weddings are considered as an extravaganza affair. However, with Covid-19 in our lives, many customs and situations have changed. For example, the guest limit has decreased, and in the same way, the use of plastic, costly wedding card invitations are replaced.
People these days are more aware and conscious about their health and the environment. Henceforth, the new norm of eco-friendly invitation cards has started.
If you love mother Earth and want to add value to your wedding by citing a solid example. Then this is the best idea. You don't have to compromise for anything as it is your wedding, and it is entirely okay to go the non-conventional way.
For instance, Anushka Sharma and Virat Kohli sent a sapling to their friends along with their invitation cards. This was such a beautiful gesture towards nature.
Latest and Trending Eco Friendly wedding invitation ideas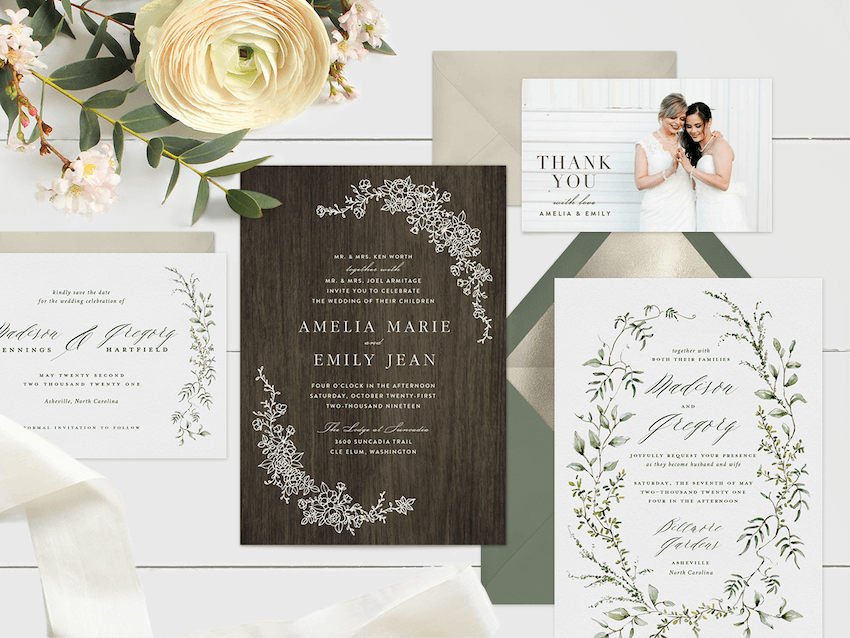 It is an arduous task if you want your out-of-the-box wedding. Since you are breaking all the usual norms, you need to keep in mind certain tricks and tips for eco-friendly wedding invitation cards.
You can make use of recycled materials either by buying them or using an old one. The other step is you can ask your friends and family to recycle the invitation cards by leaving them a cute note on the invitation.
Next, you can always make your cards personalized by giving handwritten invitations. You just get the perfectly matched stationary for that. Lastly, you can combine the save the date and invitation card to mention a website including all the wedding details. This way, the guests can fill the forms and mention special menu requirements by keeping all the allergies in mind.
Listed below are some ideas for your eco-friendly Invitation cards.
Make it Simple Yet Elegant with a Postcard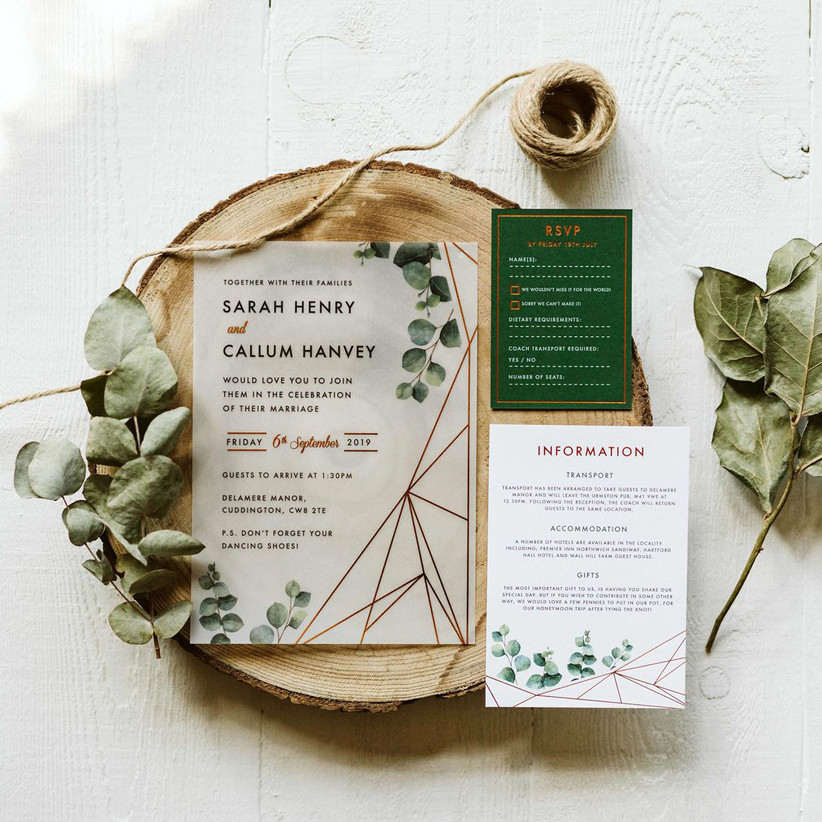 You can save extra paper for your wedding invitation. Instead, you can use a postcard that is simple, meaningful, and conveys the message clearly. You can use Rustic or Floral Postcards by Bliss Collection. There are 50 double-sided cards of $12.59 each, which are perfect for Covid weddings these days.
These are RSVP postcards where you can mention the email address. Using the lesson, the guests can RSVP their responses and mention their allergies to make it look very private and unique.
Recycled Card Invitations
Foxglove Greetings have affordable blank cards, which are $14 for 20 cards as a rate. This card gives you the freedom to write anything you want to. The space is free, and it is your comfort zone.
The best way to send invitations is by making them customized and designed in your own handwriting. This leaves a long-lasting impact on the guests.
DIY with Eco- friendly Ink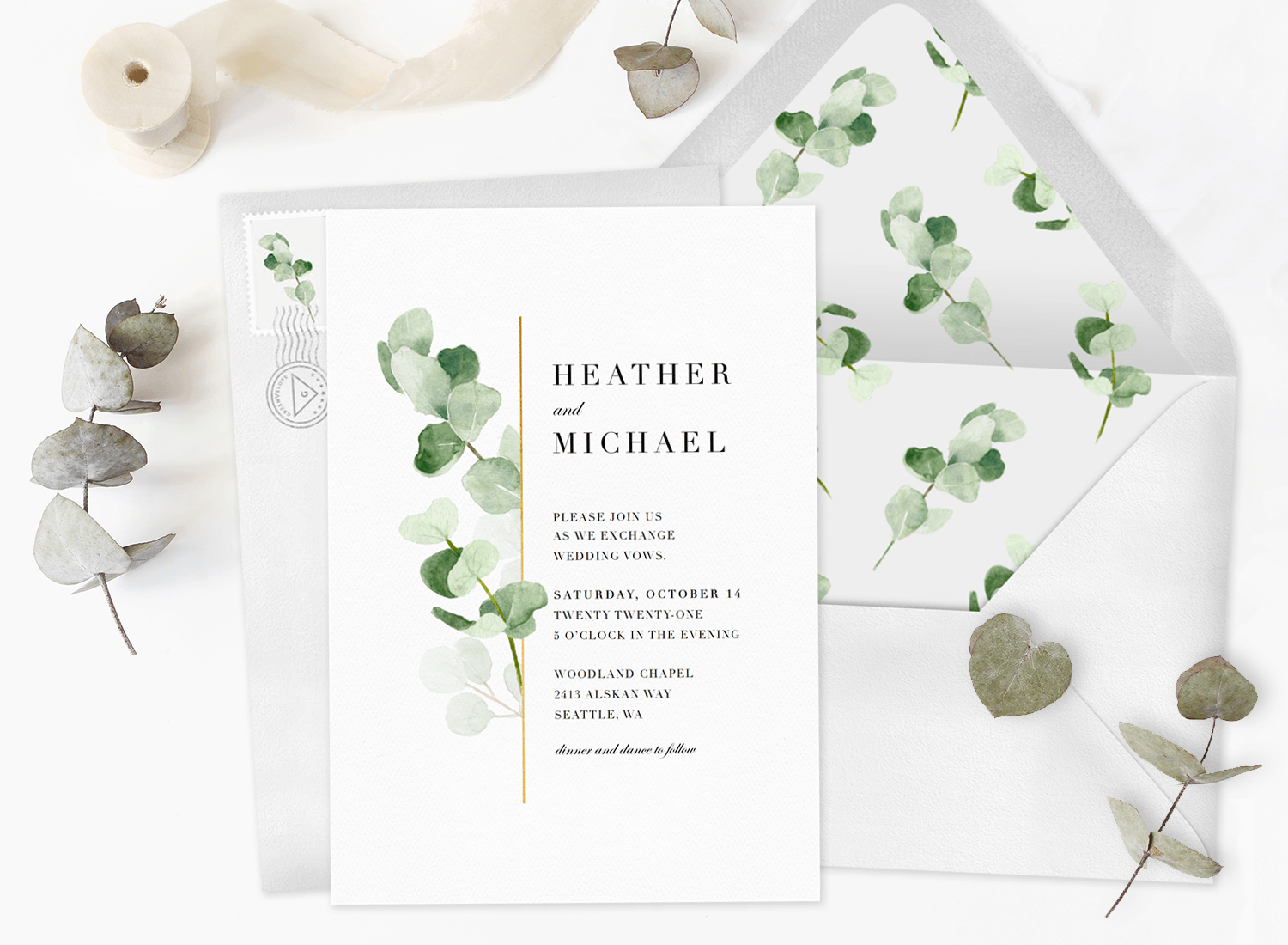 It is essential to buy a blank envelope or a greeting card. You can get a 48-pack of natural greeting cards. During this pandemic, DIYs, books have become a new trend. A set like this
You need to have metallic pens of black color. You also have a choice of a golden or silver pen. These colors add magic to the blank wedding card. It is advised that you should use Uni Posca Paint Markers on Amazon.
It is your responsibility to inform your guest to destroy the invitation after the wedding date.
Wooden Circle pieces
The most creative activity one can do at their wedding is adding wooden circle pieces as invites. This makes them look very natural. These Arteza wood slices $ 24.99 for 45 and are affordable.
The exciting part is, you can reuse these wooden slices and tie them with a rope during Christmas.
Plantable Seed Paper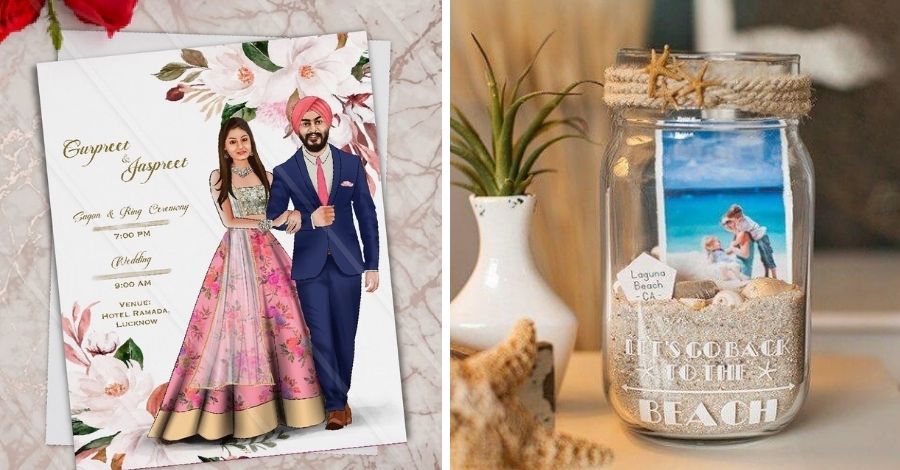 Plantable Seed Papers are made of Poppy, Daisy, Rudbeckia, and a recycled kraft envelope.
Your guests can use this plant to grow flowers. They can do it after they have rsvp theirs save the date menu. Not only this, you can customize these save the date cards.
Let's go, Digital
These days everything has gone digital, organizing events over zoom or showing a wedding ceremony on youtube. So then why not send e-invites to your loved ones to save mother nature.
Did you know Sonam Kapoor and Anand Ahuja sent e-invites to their friends and family? You can also use your creative mind to create your own wedding card. As it is cost-effective and saves paper. You can use Canva to make your wedding invites.
Jute Wedding invites
You must try these elegant yet graceful Jute wedding cards. They bring you close to nature and are environment friendly. It has a 'Golden fiber' that you can use for decoration. It will save you money and make your D-Day special.
Banana Leaf Wedding Cards
Are you having a South Indian wedding? Well, we have got you covered. You should definitely try out these fabulous banana leaf invites.
You can wrap the invite on it. This will give your wedding an authentic and cultural vibe. Also, this can be a surprise element for your guests as they would have never expected such a level of creativity.
Marigold Seed Paper Invites
These days Marigold seed invites are stealing the wedding show. It is such a unique idea in the eco-friendly wedding cards category. Ask your designer to prepare something like this.
The guests use the card and then plant the seed in their garden to get beautiful flowers. India is known for such exquisite types of wedding cards.
Stylish Wooden Peel Cards
Remember the wooden jewelry boxes which our mom and grandma used to save it. You can actually create an exotic wedding card out of it. Get the wooden box carved by your and your beau's name. Let's start a new history by preserving our past and culture. You can also get it designed as a photo frame.
Vintage Wedding Invitations
Did you know that there is a concept of the vintage wedding? Well, if love can be vintage, then why not the invitation cards! These types of cards are rustically designed on a piece of timber which gives a vintage touch. You can prepare them from scratch and can make them customized.
Watercolour Invites
Are you an art lover? Then you should surely go for watercolor invites. Find an artist who can add colorful strokes to your life by designing an invitation card for you. It is a perfect money-saving idea that you will remember for a long time.
Make your wedding cooler with CD- invites
As the trends are changing, people are opting for out-of-the-box wedding ideas. Creating your invitation on a CD is one such adaptation. You can paint the CD along with the picture of the bride and groom. It is incredible, unique, and stylish.
Invites by Pink Whistle, Mumbai
Make your wedding card in a License Format
"Yes, you have got the license to get married now." This quirky idea of wedding card invitation is breaking the stereotypes. You can give the Marriage manual book to mention the events, and the licensed card has the main details on it.
Boarding Pass style invites
"Welcome aboard to the journey of Rahul and Neha. Advanis and Jaidkas invite you to board your flights to this unconventional journey."
Have you ever thought of boarding such a plane in your life? Well, this is one of the stylish ideas for your D Day. Your friends and family would happily board this flight. It adds a classy vibe to this event.
Ikat Prints invites
Many wedding invitation cards use printed materials to make them look royal. The Kashmiri designs and Ikat prints add royalty to these cards. They look extravagant and for a private affair, but they are affordable. Even a simple wedding gets a celebrated vibe with these prints.
Gypsy Feel Invites
If you want a gypsy vibe and greenery on your cards, then go for this one. It will add super duper vibes. It's rustic and lovely.
Source: Studio & Co.
Fun Couple Caricatures
If you are funny, sarcastic, creative, imaginative, you should go for these funny couple caricatures. But, on the other hand, people want something sassy, fun-loving these days, which will surely do them justice. For instance, how about a caption that says, "when Dhokla meets Masala Dosa."
This food style clearly tells us about their localities and cultures.
Source: Pinterest
Madhubani Art
This type is entirely out-of-the-box style. If you are a mixture of art and numbers, go for Madhubani art followed by maths and physics type invitation cards. They are new in the market, intriguing and unconventional.
Source: Pinterest
Scalloped Cards with teas
This type of wedding idea is a major shoutout to all tea lovers. You can go for scalloped cards with round-shaped tea leaves. The guests will not only enjoy your wedding but can remember you forever with the style of teas. It is about you and about your taste. People will surely fall in love with your wedding card.
Conclusion
We hope that you liked our unique ideas and implemented them at your wedding. The private affairs are increasing due to covid. So, we should try something out of the box. Till then, keep showering your love on us to come up with such ideas for you. Then, share it with somebody who needs to read this.